Hello!
Lovely to see you here!

I sing Mantras and Medicine Songs in different languages (Sanskrit, Gurmukhi, English, Spanish, and more), while accompanying myself with Indian Harmonium and guitar.

It's my greatest joy to share music with you - be it a yoga class with live sound, a singing circle, a concert or a ceremony.

I feel music as a wonderful gift for communicating from heart to heart.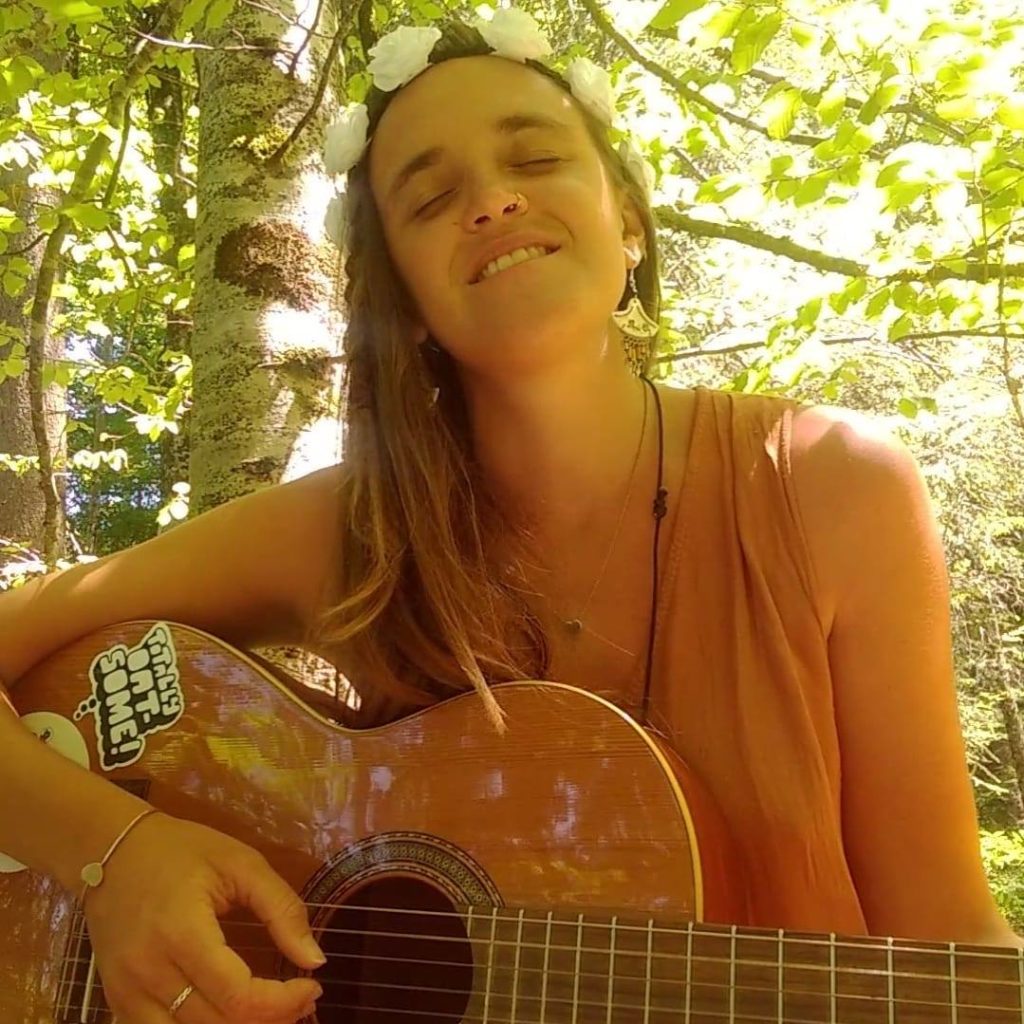 I let myself be inspired by the current mood and vibration of the day and of the group and choose the respective songs intuitively.
Yoga with live music
A yoga practice accompanied by live music can have a deeper effect on your subtle system than an ordinary yoga class. Asanas in combination with sounds can have healing effects. Especially quiet yoga classes with longer lasting asanas are suitable for this format.
Singkreise
The shape of the circle is often found in nature and everything happens in cycles (the seasons, day and night, life and death, menstrual cycle in women, etc.). The circle has no beginning and no end, a symbol of wholeness.
The singing circle is a space where you are welcome exactely as you are.
hether you are a professional singer or an out-of-tune-singer, the singing circle is not about performing, it is about surrendering to the sound of your soul. I invite you to close your eyes, drop your masks, and trust your heart. Together we create a sound carpet that holds and heals us all.

About Mantras and medicine songs:
The word "Mantra" comes from Sanskrit, one of the oldest and most sacred languages. Mantras are a kind of prayer, an invocation of certain Divine Qualities. In Indian culture, these are linked to Godesses and Gods who embody these qualities. For example, Ganesha represents the quality of new beginnings. Sanskrit mantras have been recited for thousands of years. This gives them an enormous energetic effect.
Medicine Songs are also prayers in which we connect with Source, with the all-encompassing Love. These songs fill us with inner strength, they bring us back to our own center, they lead us to the heart, ground us and inspire us. They are pure medicine.

Concert / Ceremonies
I am happy to sing for you on request - to enjoy, relax, connect, rejoice, laugh, dance, ... tuning into our hearts...