Glenda Laila
My love for music has accompanied me all my life. Over the years I felt more and more that making music grounds and centers me. My need for connection and unity led me to the path of spirituality.
Spirituality for me in a short version: To always remember to live from the heart. Actually it's quite simple and at the same time it gets difficult once in a while (or even often) when the mind wants to take over the lead instead of giving advice in the passenger seat ;-).
Das Singen, sowie auch Yoga, Waldbaden, freies Tanzen etc., sind für mich ein Weg, mich mit mir selbst, bzw. mit der Quelle (dem Universum, Gott, der Liebe, wie man es auch nennen mag) zu vereinen. Ein Weg der Heilung und Transformation. Ein Weg, um nach Hause zu finden. Ein Weg, in die eigene Kraft zu kommen. Ein Weg, sich zurück zu erinnern, wer man in Wirklichkeit ist – reine Liebe.
Diesen Weg möchte ich ein Stück mit Dir gehen, indem ich meine Hingabe zur Musik mit Dir teile und Dich durch die Klänge der Mantras auf eine Reise zu Dir selbst mitnehme.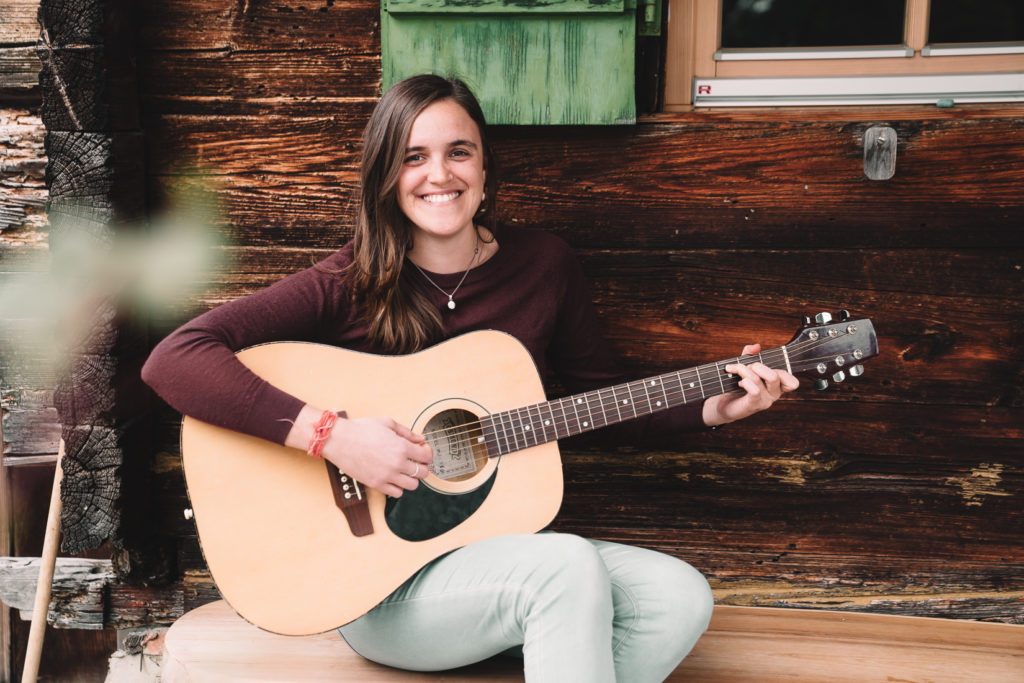 Musical path
Childhood and teen years
Growing up in a musical family, I developed a passion for the violin in my childhood. In my teenage years, this instrument took a back seat and I discovered my love for singing. For six years I enjoyed singing lessons with Katrin Schatz. These lessons had an incredible impact on me, not only musically but also in my personal development. I realized how music has a great therapeutic effect on me. Singing gave me self-confidence and the opportunity to express my true self.
Young adulthood until now
Aus Lust, mich beim Singen selbst zu begleiten, fand ich den Weg zur Gitarre. Durch Youtube-Videos und einige Unterrichtsstunden näherte ich mich diesem Instrument. In den vergangen Jahren war ich mit verschiedenen Bands unterwegs, habe viel Bühnenerfahrung gesammelt und bin auch musikalisch gewachsen.
Mantras & Medicine Songs
When I started to open up to spirituality, I discovered the wonderful energy and effect of mantras and medicine songs.
Meine erste Begegnung mit einem Indischen Harmonium war Liebe auf den ersten Ton. Durch einen Tageskurs in Zürich lernte ich dir Grundlagen dieses Instrumentes. Ein vertieftes Verständnis davon und eine lebensverändernde Erfahrung von Mantras erlangte ich in meiner dreimonatigen Intensiv-Ausbildung bei Mukesh Kumar Arya (Divine Maa Music and Yog Ashram) in Rishikesh, Indien. Mukesh's Vater, der selbst auch Musiker und Lehrer war, war ein enger Schüler von Swami Sivananda.
Kraftlieder habe ich erst später für mich richtig entdeckt und taste mich nun langsam heran, selbst welche zu komponieren. Mantras und Kraftlieder berühren mich gleichermassen, jedoch auf unterschiedlichen Ebenen. Ich mag es, verschiedene Ansätze wie Hinduismus und Schamanismus zu verbinden und in mir zu vereinen, bzw. daraus meinen eigenen Weg zu kreieren.
Mit dir und für dich zu singen, ist mein reiner tiefer Herzenswunsch. Es bereitet mir so viel Freude, diese Art von Verbindung zu erleben, dieses Geschenk zu teilen und auf diesem Lernpfad zu sein. Singen ist (m)eine Medizin und ich bin unendlich dankbar, andere Herzen auf diesem Weg berühren zu dürfen!